A decade ago, between stints in grad school, I worked in marketing for the Long Beach Symphony Association.  It was an exciting year; the orchestra was seeking a new conductor, and in the organization used the transition as an excuse to revisit its subscription packages.  Previously, the house pricing map looked similar to this one of the Detroit Symphony Orchestra Hall–that is, the price tiers were based on horizontal bands of seats, with less expensive seats at a greater distance from the stage: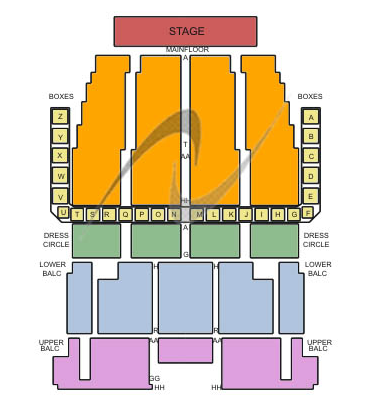 In consultation with some arts marketing gurus—and I'm afraid the name of the firm is escaping me right now, so please comment if you know the name of the consultants who helped redraw the floor map—the Symphony completely changed its subscription price points.  Some people's annual subscription prices increased dramatically, while others' plummeted by hundreds of dollars.  The map looks kind of crazy at first glance: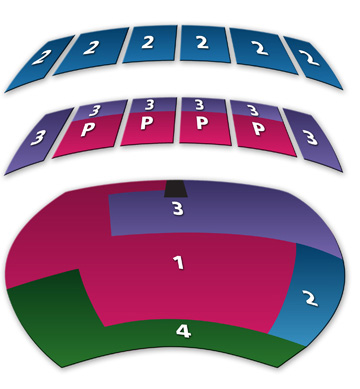 Some of those Level 4 seats are pretty prime.  Imagine being in row 6 or 7, at the inner edge of the green area.  Yet those are the cheapest seats in the house–currently only $79 for a season subscription to six classical music concerts.  (And yeah, you can bet my parents now have a couple of those seats.)
Take a look at the season subscription prices for 2009-2010:
P (center front loge): $344
1 (most of the floor): $339
2 (balcony, and portion of the edge of the floor at stage right): $264
3 (edge and rear of loge, most of rear of floor): $175
4 (first few rows, plus a portion of the edge of the floor at stage left): $79
Let's reexamine that floor map.  I don't think I'm about to give away any proprietary secrets here, as this is a published floor map, and anyone who has attended acoustic music performances in a concert hall will know where the preferred seats are, which ones tend to sit empty, and where the priciest seats usually are.  But the map definitely provides some food for thought, and it calls for a close reading.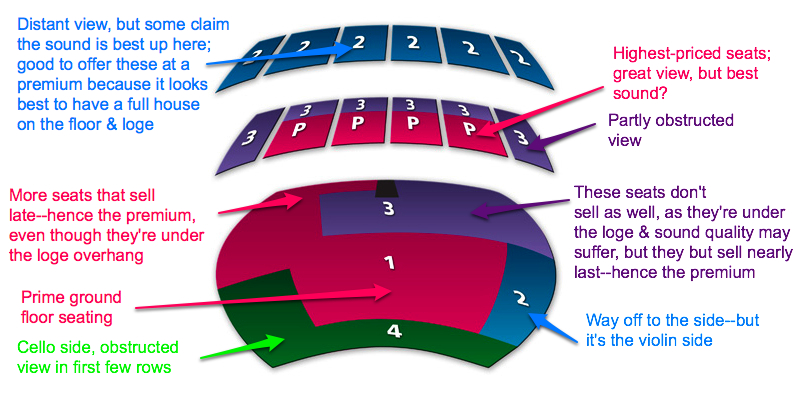 Pricing the balcony higher than many seats on the floor and the loge is an interesting strategy from a marketing and public relations perspective.  From this viewpoint, people sitting in the balcony aren't doing anyone any good.  They're removed from interaction with the people the box office manager would want them to talk to–those who can talk up the benefits of floor or loge seats.  And they serve no purpose when it comes to concert reviews; you want the front of the house, and if possible the entire floor and front of the loge, packed with people so that the reviewer gets the sense that the Symphony has die-hard fans who won't miss a single concert.  If you're reserving a few seats in pricing section 1 for music critics, you want them to see people enjoying the concert–hence the incentive (lower prices) for people to purchase subscriptions in the first couple of rows.
The cello-side and front-row demographic—the level 4 subscribers—is a potentially interesting one.  I don't have access to the latest demographics from the Symphony, but you can imagine who might be clamoring for those seats: retirees with a limited income, students, frugal types, former or amateur cellists, and newcomers to the symphony experience who might not understand that the cello side is considered, well, more uncouth and less desirable than violin-side seats.*  They're not the symphony's core demographic–those folks buy seats in areas 1 and P–but they have the potential, particularly if they're young, to rejuvenate a symphony audience whose average age is increasing.
I can definitely imagine a scenario where those who sat in the front couple of rows for a season or two decided to upgrade so that they could have a less obstructed view.  Or cello-side folks who want to move to the violin side or the center floor.
How does this apply to museums?  Think about the things for which you charge:
General admission
Admission to special exhibits
Individual or family membership
Enrichment activities for children or families
Behind-the-scenes tours
Lectures
Museum-sponsored field trips
Other special events
mp3 player rentals for audio tours
Food in the café
Items in the museum store
Which of these things are most likely to bring in the door people in the demographics that you'd like to turn into regular visitors and lifelong fans?  Which of these products and services–alone or in bundles–might you offer to a limited number of patrons who are particularly attractive to your marketing department?  What, in short, is your cello-side offering?  What might you offer, and at how low a price point, to bring in those who wouldn't otherwise participate in your events?  I'm not talking about student discounts to bring in young people.  I'm talking about some kind of crazy, coveted, and perhaps quasi-secret discount (secret because it's marketed only to select segments).
Is your art museum near a large research university, but you're finding that scientists aren't coming to the museum in the same numbers as the humanists?  Put together an special evening tour with a wine and hors d'oeuvres reception plus membership package for members of the local university's Association for Women in Science.  Offer childcare at the event so harried scientist-mothers will find it even more appealing.
Want more middle-class African American families to visit regularly on weekends?  Offer a special event package and family membership to members of an AME church.  Do your research and target this specific church's interests.  For example, are the parishioners interested in hands-on exhibits about health for their kids? Art installations about green living, with DIY gardening tips? Dialogues about increasing the number of grocery stores in neighboring communities?
Want to attract young, highly educated professionals with the potential of large future income (and donations and board of trustees service)?  Offer a special "thank you for serving our community" offer or event to medical students and young doctors doing their residencies in local hospitals.  Once you have them in the door, if you're a science museum, you can try to recruit a few of them to participate in a Café Scientifique on health issues of interest to your community or ask for their help in writing questions for, or being auctioned off as a "lifeline" during a pub-quiz-style fundraiser.
Your cello-side people, in short, are those who might not normally make a habit of coming to your museum, but who are curious and need a little nudge in the form of an interesting offer that represents a significant discount over the price paid by your actual core demographic.  Bring these folks in the door with an interesting–and exclusive–experience, and then lead them to higher levels of involvement, participation, and donation.
*No offense to cellists.  Personally, I prefer cello side!